UC Davis utilizes the Trumba system for its central calendaring and event listing needs, which can also be used in your SiteFarm site. 
Calendars displayed can use your own department's Trumba account ID or an account ID of another department on campus, such as Academic Dates,  Athletics, or Arts and Entertainment.
SiteFarm includes three system blocks to help you build your calendar display on your site:
Trumba Main Calendar Spud

The calendar list itself including dates, times, locations, images, event details

Trumba Promotional or Control Calendar Spud

A block with several possible configuration settings that will create a:

Date Finder - clickable monthly calendar view
Day Summary - shows single-line entries summarizing the current day's events and times
Filter - if subcategories exist, users can filter for a more granular list of events
Search
Tab Chooser - allows visitors to decide if they want the default detail list,  a simple list, or the month view
Upcoming - what's coming up for the week
Upcoming Fader - same as above, but includes a fade transition from one view to the next

Trumba Open Spud
Starting an Account in Trumba
Licenses are granted through the campus' Office of Strategic Communications, and if approved, are granted on a per department basis. For information on requesting a Trumba account, please review the instructions provided by the Request an Account page on the Marketing Toolbox website. 
Trumba WebNames
The key to making calendars appear in the Trumba blocks is having the correct Trumba WebName. If using your own departmental calendar, this WebName will be provided with your Trumba account, or if using a public UC Davis calendar, you can look through the list of departmental Trumba calendar WebNames for the one(s) you need.
Creating the Main Calendar
Navigate to the page where you want your block to appear. Click on the Place Block button located in the upper-right corner of the screen.
Select the region plus sign marker to bring up the block selection dialogue box.
Use the search filter field to find "Trumba" and, from the list, select "Trumba Main Calendar Spud".
Configure you block's options:

Title: required to create the block, but optional to display. Use the Display Title checkbox to toggle on or off its visibility on the page.
Web Name: enter the WebName information provided to you if this is your departmental calendar or from the Marketing Toolbox Public Calendars page for a different departmental calendar.
Calendar URL: enter the internal path (/node/5) or the full URL for where this calendar will be placed (https://yoursite.ucdavis.edu/calendar).
Open events in new window - toggle on or off as needed.

Scroll to the bottom and click Save block to finish.
Add "Promotional or Control Spud"
The Trumba Promotional or Control Spud will allow you to offer your visitors various ways to interact with your calendar--overviews, filtered lists, searches, and more. Take a look at the Trumba Calendar Demo page to see your options live in the First Sidebar region of the page.
Just like the Main Calendar Spud, you will need the WebName and the calendar URL in order to configure your promotional or control spud.
This example illustrates a control spud named 'Filter', using the 'filter' spud type, on the Trumba calendar 'uc-davis-arts-entertainment'. You can see this in action on the live Calendar Demo linked above.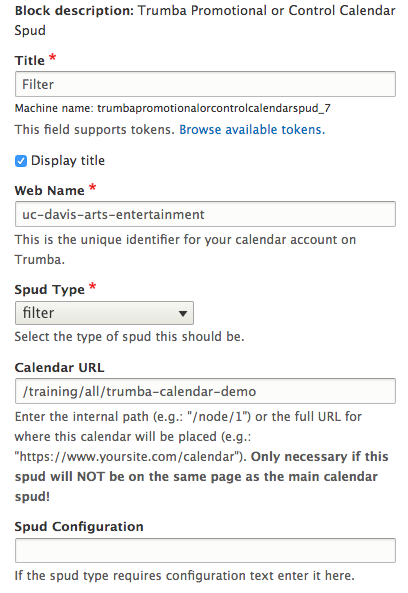 The Spud Type drop-down menu offers several different options to select from, including Upcoming events, a date finder, current day summary, search, a 'by month' list, a view chooser in tabbed form, and a filter, making this single system block very powerful.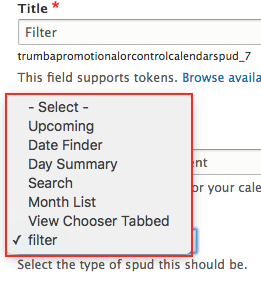 Setting a Spud's Relationship to Its Main Calendar
In the configuration settings, you will be required to indicate if the spud you're about to create will ultimately end of being displayed on the same page as your main calendar, or on a different page entirely. 
Example 1: With the main calendar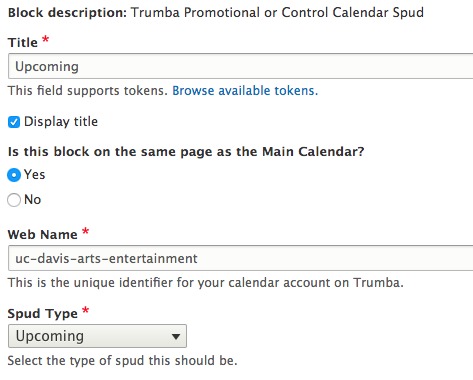 Example 2: On a separate page from the main calendar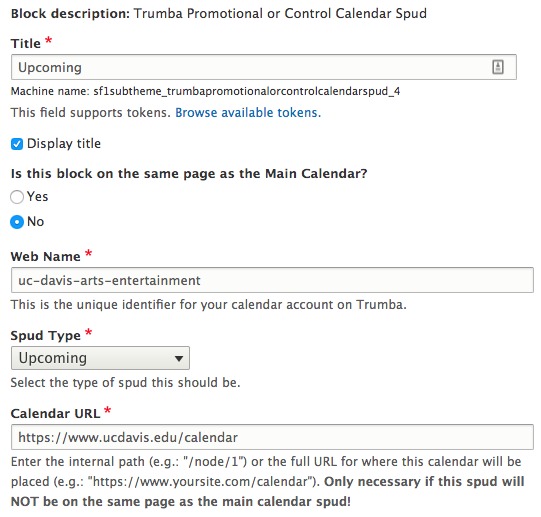 Placing Trumba Blocks
The Trumba blocks can be placed in any region a normal block can be added. If you're unfamiliar with the process of placing blocks, check out the write-up on Placing Blocks to find out how it's done.
Tags