Next Steps to Configuring Your Site
Home page
Be aware that the migration process may introduce a conflict so that your home page is no longer accessible. This isn't a problem; you have the option to create a new Basic Page content type, give it a name that designates it as your home page, and then use that in the Basic Site Configuration area to instruct the system to use it as your home page. Example: /home or /homepage or /newhome or /node1.
Main Navigation
The migration process does not preserve your link hierarchy and the output you see when you check any of your pages may include every one of your primary links, including any links that were in a drop-down menu, embedded right in your main navigation. This is easy to correct and recommended first step to impose some visual order on your site. Instructions on working on your primary navigation are available.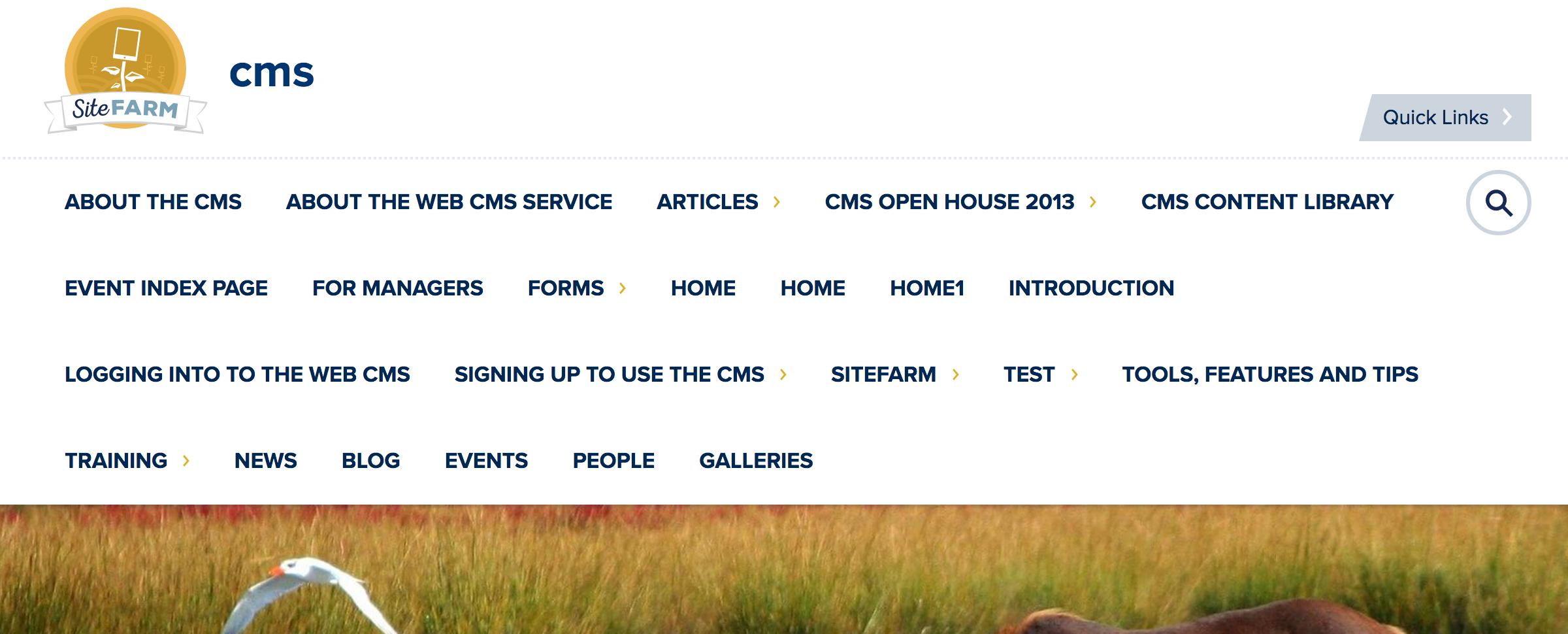 Setting Page Structure
On import, all of your content sits at the root level. To structure your page content, you will want to review the URL Path Settings section of each of your pages and consider where the page content should sit to achieve a logical navigational order which will also be reflected in the bread crumbs associated with the page.
Preparing Images
Though initially we considered including the Image Gallery block in the migration process, we discovered during testing that many sites were using images way too large for web use--in excess of 10MB in some cases. These large images were causing time-out failures in the migration process, so we're using this as an opportunity to advise users of the importance of properly preparing your images for use on the web. SiteFarm sites have a set limit of 3MB per image; anything larger will fail to display on the page in order to ensure that the page will load and perform reasonably well for all visitors on a variety of devices.
Practical Tips
Images need to be prepared prior to upload to a SiteFarm site

SiteFarm does not contain any image editing options, so find an external tool you feel comfortable using to prepare your images, such as Preview, Paint, PhotoShop, GIMP, etc.

Images should have a 72dpi
Use our PatternLab page to help you find out the ideal pixel size in height and width for the largest version of the image you'll need
The Drupal community is working on a new media file handler that we're hoping will be released in October 2017 or April 2018. This improved feature will let you reuse a single image in multiple locations. Until this update is available, do not be concerned that you may need to upload the same image multiple times for use in many areas across your site--SiteFarm provides you with sufficient space to take this need into account.
Re-attaching your Feature blocks
Your Feature blocks—the only block type migrated from Cascade—have been converted to Basic blocks and stored in your site's Custom Block Library tab located in Shortcuts » Blocks » Custom Block Library tab. You can add your block back to the correct page using the instructions for Placing Blocks and filling in the block's Page Visibility section. Key lessons also include how to best re-use your block multiple times if two or more pages are meant to share a single block.
Tags