Getting Started
Please note: only a user with a Site Manager or Site Builder role can migrate a site from Cascade to SiteFarm. If you haven't already, please use our Service Request Form to ask that the Migration Module be enabled for you.
Navigate to Manage > Configuration
Locate the SiteFarm section of the page, then look for and click on SiteFarm Migrations

Review the tabs under the page title Migration overview and select the Cascade Migration tab

Cascade Migration - Step 1/4 - Login
Leave the Default option in the drop-down menu and click Check login.

Cascade Migration - Step 2/4 - Site Select
Using the drop-down menu under Cascade Website, choose your site from the available list. 

Click Select to continue.
Cascade Migration - Step 3/4 - Options
Item Selection
Menu Structure - This option will incorporate your Cascade menu items into your SiteFarm main menu. The links will not be structure as drop-downs; this will need to be done inside of SiteFarm when you are ready.
Standard and Flex Pages - Captures all your standard and flex pages for mapping and importing to the proper content type in SiteFarm. Additional options are available on a per folder basis.
People - Captures the data in your Person pages and will import and map the information to the appropriate fields in the Person content type in SiteFarm.
Feature Blocks - Information included in a feature bock will be mapped to the Basic Block type and located in the Block Layout > Custom Blocks area of your site.
Page Import Options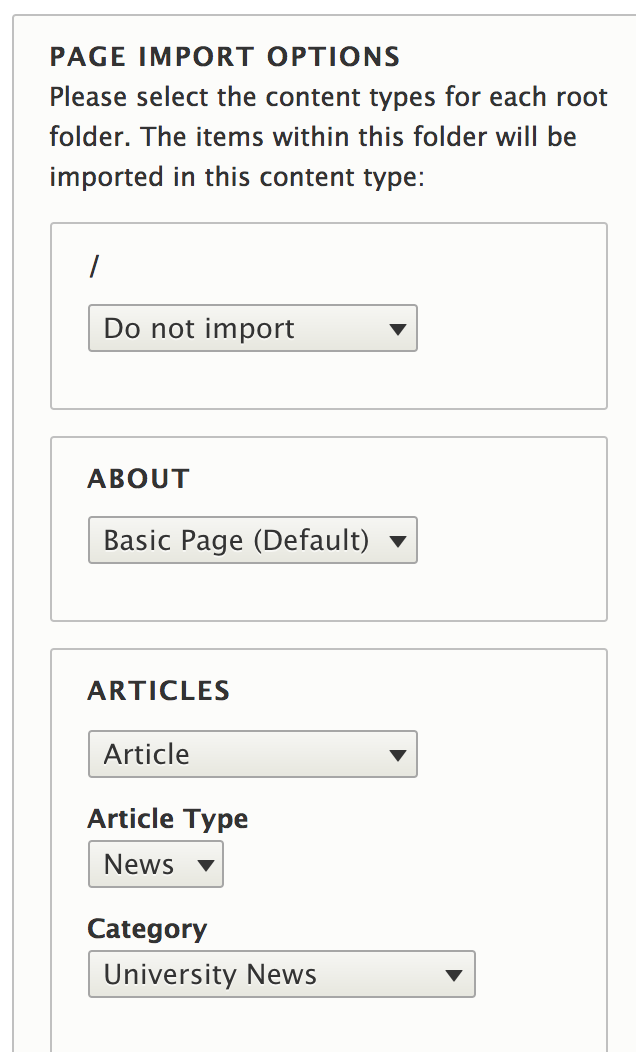 This section will list all the folders inside of your site. Certain ones have been designated as "Do not import" on purpose as they are either system folders unnecessary for your work or, like the /images or /local_resources folder, the contents will be pulled in if actively in use by any of the items you've selected in the above section.
Each folder section has a drop-down menu. The menu lets you select either the Basic Page (Default) or the Article content types.
Basic Page (Default) - the most commonly used content type, used for content that doesn't change often and isn't date sensitive. The page type also allows you to easily set its navigation menu options.
Article - used specifically for news, blogs, articles, announcements, etc., and is geared toward time-sensitive, date-stamped content. Using the Article content type means your content will be able to automatically take advantage of built in Views for pre-programmed, pre-styled, organized lists of your content.
Article type - You can designate your Article as either a blog or news type for navigation purposes
Category - If you plan on using over-arching Categorical structures on your site, you'll want to review and update your SiteFarm Categories first before doing this step. 
When ready, click the Next button at the bottom of the page.
Cascade Migration - Step 4/4 - Confirm
The system will take a moment to review your site and then let you proceed by checking the Generate Migration(s) button. Generating the migration creates the migration checklist of content that should be imported—this is not yet the actual importation stage.
Click the Generate Migration(s) once to proceed.
Note, it will not appear that anything is happening, but please be patient; an operation is in progress in the background. A future update to SiteFarm by the end of September 2017 will add a progress bar will be added to indicate activity.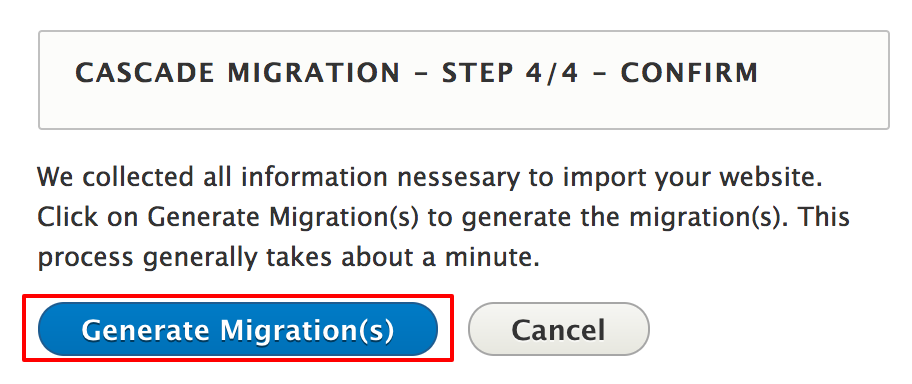 Overview of Migrations
The overview will show you a list of content you can import based on the selections and configurations you made during the 4-step process. Please take special note of any content in parentheses indicating that certain content should be imported first.

Recommended migration order based on Migration Overview options:
Cascade Pages and MenuItems (Page) - this is your standard and flex pages that will be converted to Basic Page content types
Cascade Pages and MenuItems (Article) - this is your standard and flex pages that will be converted to Article content types
Cascade Pages and MenuItems - this is your navigation main menu links
Cascade People
Cascade Blocks - this represents your Feature Blocks from Cascade. This content will be recreated in SiteFarm using the Basic Block and located in Block Layouts > Custom Blocks tab.
Cascade Page Attachments - this will capture any files and images actively in use by your Cascade page. You have two migration entries listed because images and files are two separate migrations.
Select an action
After selecting a migration option from the list, in the recommended order, leave the drop-down menu as "Run Import" and the click the Execute Action button at the bottom of the page. Run each option, one by one, until your desired content is migrated.
Do you want to start the import?
Perform Import to proceed.
The Initializing Import screen will appear and display a progress bar until the job is complete, at which time you receive a message indicating "Batch completed." This stage can take a few minutes to perhaps as long as fifteen minutes depending on how much content needs to be migrated. 
Tags