Understanding what the migration tool is for
It's important to understand what the migration tool is and what it is not.
The migration tool is intended as a massive copy 'n' paste job to move the essential components from your Cascade site into SiteFarm more quickly than if you did it manually yourself. Once your text, images, and files are moved to the new platform, it is still necessary to review all your content to set up navigation, site architecture, layout, and the reattachment of blocks. The migration tool is not an "apples to apples" conversion intended to make SiteFarm look exactly like your Cascade site looked.
What should you do in advance?
Consider cloning your Cascade site
Given the work you may need to do, it might make more sense to request a clone be made of your site so you can perform your preparation steps knowing your live site is perfectly safe and can continue to be updated in the interim without interference. This leaves you free to take some radical steps, as outlined in the next suggestion. If you want to discuss this choice, email cmshelp@ucdavis.edu for further assistance.
Review, Reuse, Reduce, and Delete
If you haven't already, now is the time to take a look at your site and decide if any of your content should be deleted, combined with other existing content, or deleted entirely.
MAKE SURE YOUR PAGES IN CASCADE ARE USING THE TITLE FIELD
Because of the way Cascade's Display Name, Title, and Page Title fields were configured, use of the Title field specifically was optional in Cascade. This is not the case in Drupal; in preparation for migration, you must ensure that information is included in a page's Title field or else the migration process will fail to locate and include it in the migration.

Navigation architecture
Is it time to rethink your site's information architecture? If your site is older and has grown, it may have become unwieldy and hard to navigate. Take some time to review site analytics if you collect them and speak with your colleagues and visitors to find out what's working with the site and what isn't. Use that information to consider how your primary navigation and links on the homepage and major internal landing pages should be updated for a better experience for your visitors. If your department would like to take a deeper dive into this and you feel out of your depth, consider contacting the Office of Strategic Communications' Web and Interactive Communications team for assistance.
Do you have a really large site?
If you have a particularly large site with a complex, link-filled navigation bar, consider whether it might be better to build it manually via the Basic Page's Menu Settings (menu links) and URL Path Settings (for breadcrumbs and site structure), and exclude the primary navigation from your migration process entirely.
As an example, take a look at this screen shot of a test migration of the Web CMS Service content that resulted in this menu output: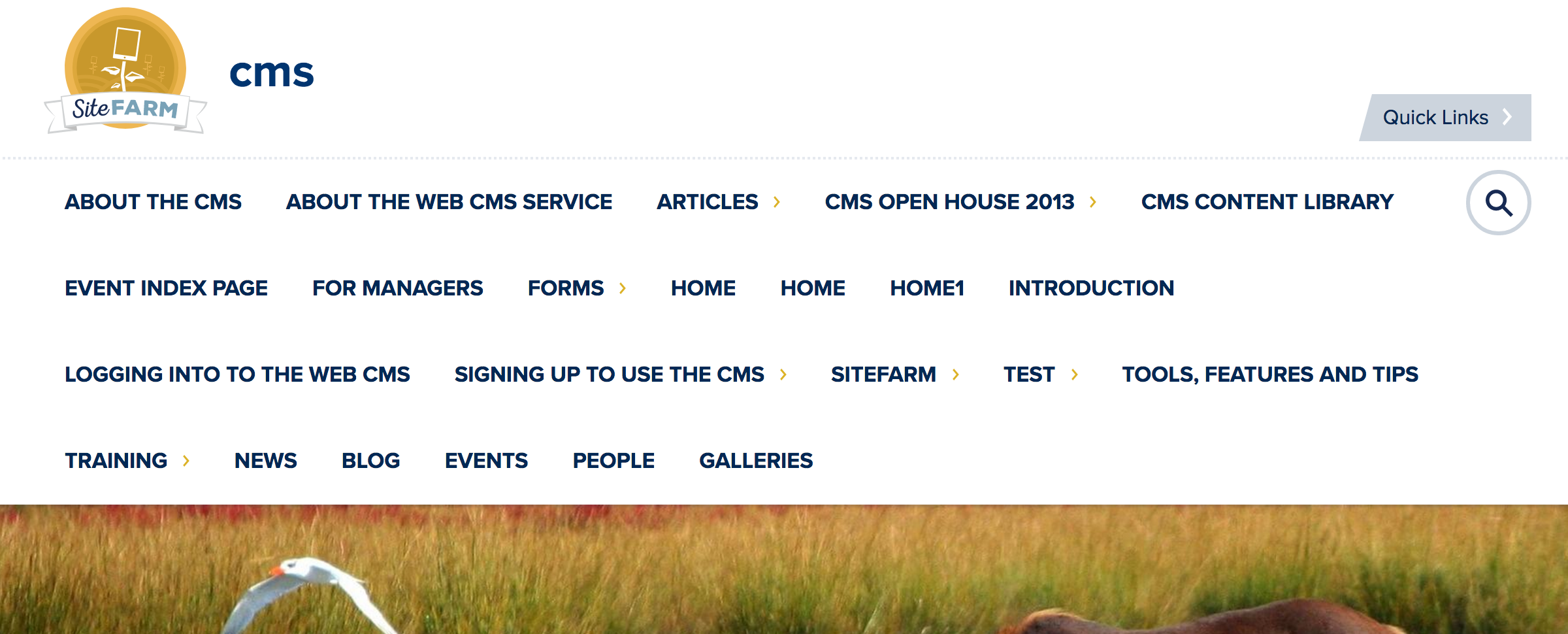 Some menus may come out even more detailed than this. If you do include your menu and then find it overwhelming in volume, you do have the option to roll back your migration back to exclude it. If you want to make your main navigation manually, consider taking this approach:
Locate your migrated pages that represent the main menu links. If they are basic pages, add them to the main menu.
Locate the migrated basic pages that represent the links to be added to the drop-down menus, provide a menu link and make the appropriate main link its parent.
As necessary, you can reorder your links, especially the links in your drop-down menus, via the Main Menu section. 
Page Conversions (particularly news and articles)
During Step 3 of 4 of the migration, you will be given the ability to set your Page Import Options. This means you will be presented with a list of folders from your Cascade site and, on a folder-by-folder basis, be able to tell the system that you want that folder's contents to be converted to a Basic Page, an Article page, or not migrated at all.
The Basic page option is straightforward, much like the Standard Page in Cascade. This will be information that, once created, doesn't receive an update all that often and is relatively static in nature.
The Article content type will be a new option, specifically designed for news, blogs, announcements, and other content that would be considered optimal for date stamping. The content designated as an Article will be utilized by SiteFarm's News or Blog View, which will dynamically generate listings of your Article content in a teaser format, and will update automatically as you add more Article content. Information from your Articles might also be displayed on your home page, depending on what system blocks you choose to use in that location.
Suggested Article Strategies
Do you think you will want to organize your news using SiteFarm Categories? This can be really helpful for organizing your content and providing a richer browsing experience for your users. It will also save you time if have a large repository of news already. If so, skip down to the Taxonomy information below, otherwise proceed to the next section.
Single Article Folder Migration
If you have already created a news folder (however you may have chosen to name it) in your Cascade site, then you're already one step ahead and ready to migrate.
If you haven't, consider creating a new folder--not used by navigation and giving it a recognizable name so it will be easy to spot during your migration. Copy your news into your new folder; doing so leaves your active content right where it is without impacting your live site. Since the folder is not used by navigation, it won't be indexed and made part of your site's navigation. Take the added step of Editing your folder and unchecking the box 'Include when publishing' to ensure it doesn't accidentally go online.
During migration, you will now be able to find and include this folder and easily mark it for conversion to the Article content type. Additionally, you will be able to decide if it better fits as a blog or as a news type. Finally, you will be given the chance to assign a single overarching Category to the Articles. This Category assignment can be changed later during regular site development.
Taxonomy Categories and Multiple Article Folder Migrations
If you already have a large archive of news on your site, you may want to consider investing the time to properly prepare your Article Categories ahead of time in preparation for assigning them to your content during migration; it will save you a fair amount of time in having to go back and update every single article in your site.
First, in SiteFarm, review and create your own Article Categories
Read the following training pages to familiarize yourself with Taxonomy in general terms.
Next, you can follow these steps to begin working specifically in your Article Categories:
Using your admin panel, navigate to Shortcuts > Taxonomy (Categories).
On the Taxonomy page, locate the Articles Category entry and click on its corresponding List terms button.
 You can Edit or Delete a term using the related button on the right of each term. You can also use the Add Term button, located above the table listing, to create your own unique Article Categories.
Additional details are available from the Create or modify vocabularies and terms documentation.
Second, in Cascade, create multiple folders for Articles based on Categories
Based on the Categories you've created in your SiteFarm Taxonomy, now create corresponding folders--not used by navigation in Cascade to match. Be sure to Edit your folder and uncheck the box 'Include when publishing' to ensure it doesn't accidentally go online.
Copy your news content into the appropriate category folders so that, on migrate, you can instruct SiteFarm to assign the Article content type, your chosen node designation of news or blog, and finally, assign your preferred Category to the contents of the folder.
What you can expect from your migrated content
Feature block content will be migrated and stored the Custom Block Library, accessible by navigating using your Admin panel to Shortcuts > Blocks > Custom Block Library, ready for you to edit them if necessary, or proceed to attach them to pages.
Because most Flex pages are only comprised of blocks, the pages themselves have no body content and will not be migrated. However, the feature block content attached will be migrated (see above).
Standard pages with body content and images attached in the repeating content block areas will be migrated. Please note that because the differences between the two systems, the images may have changed position or size. You will need to manually fix these shifts in image presentation.
Images larger than 3MB may migrate, but will NOT display as they exceed the image size allowance for good page performance. If this happens to you, you will need to either get the image from Cascade or your local system, prepare it properly for the web (72 dpi, less than 3MB in file size) before uploading and attaching it to the page or block.
Image galleries will not be migrated; these will need to be recreated using the Photo Gallery content type. Please be sure to review your images to ensure they are web-ready (72 dpi, less than 3MB in file size) before uploading.
People and Event page types in Cascade will automatically map to the corresponding Person and Event content types in SiteFarm. If you created your people or events in the Flex or Standard page types, these will be migrated over as Basic or Article pages based on your selected option during the migration process. If this isn't your desired look/feel, you should recreate this content in the appropriate SiteFarm content type to take advantage of the built-in features and services in the new platform.
Pages with the same system name in Cascade, like 'index', will be differentiated via SiteFarm's redirect system so it knows the difference between, for example, /academics/index and /advising/index. In SiteFarm's All Content list, these two pages will be listed as the same name, assuming they aren't Flex pages built only with block content (in which case they won't be migrated, only their blocks). Ideally, you should search these pages out and provide them with a new title/URL Path Setting since SiteFarm does not rely on the "folder used by navigation/index page" combination to make navigation work properly as it does in Cascade.
Tags