The following are issues reported while attempting to migrate content from Cascade to SiteFarm.
1. Error Message: An AJAX error occurred.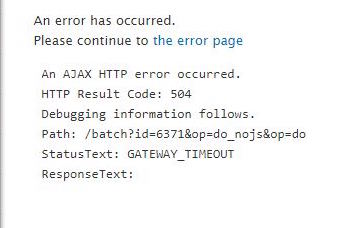 What happened: At the end of your selected migration process, the system generated an error indicating the possibility that one or more of your files were unable to be transferred because the process exceeded the timeout setting.
How do I fix it?: Refresh your screen. The migration has, in all likelihood, actually migrated all your content just fine. Verify this by returning to Manage > Configurations > SiteFarm section > SiteFarm Migrations and review the Imported column for the batch entry you migrated. If the number matches the number in the Items Found column, everything is fine. If the numbers differ, you will need to review your content to see what wasn't included in your migration.
How will this be remedied in the future?: We have a programming fix for the timeout issue. It is currently being tested and scheduled for release by the end of August 2017.
---
2. Message: Temporarily Unavailable screen
Temporarily Unavailable

The website that you're trying to reach is having technical difficulties and is currently unavailable.
We are aware of the issue and are working hard to fix it. Thank you for your patience.
How do I fix it?: If you're able to see this option, click on Shortcuts > SiteFarm Config > Clear cache. Then, click the Clear caches button. If the problem persists and you have access to Site Factory, you can also clear the site cache from the drop-down button next to Login on your site card. This should resolve the problem. If you can't see this option, please submit an email to the SiteFarm team detailing what you were doing with your site at the time of the problem and we will try to assist you.
Tags