The Categorizing label is available to you while in Edit mode and it's located under the Additional Options section of your page. The label can be expanded to give you further options for assigning Branding, Types, Categories, and Tags to your content.
You can learn more details about customizing these areas through Taxonomy and terms.
Branding
By default, the title of your page is displayed at the top of the screen in a blue banner. This banner can have alternate branding style colors applied for visual pop or to infer a relationship to related information that shares the same branding color.
For a visual example of the colors included in our Branding selection, take a look at our PatternLab page under "Category Brand Colors".
Types
What you see under the Categorizing section will vary depending on the type of page you're working on. Certain content types will give you the option to specify a "Type". For Person profiles, this will depend on the taxonomy terms you have defined. For the Article content type, this will include News or Blogs, or potentially other types if you've created any custom Views.
Article Categories
To help people filter to subject matter they are most interested in reading, you can either use the default Article Categories provided in Taxonomy, or create your own. Once those terms are in place, you can then set them on an article-by-article basis so when the term is clicked, only the articles sharing that assigned term will display.
Examples of the Categorizing options based on page type
Basic Page, Event page, Gallery page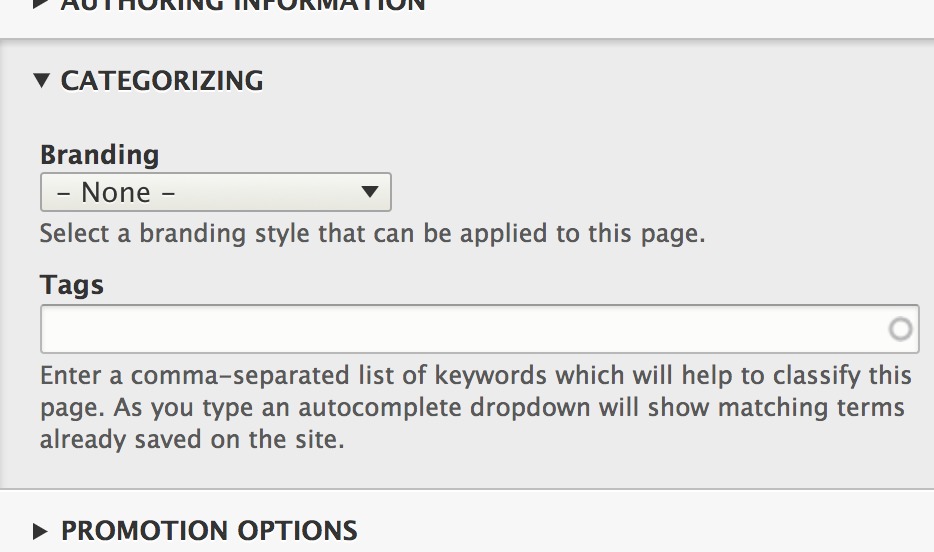 Person Type
Article Type