Getting Started
Please note: only a user with a Site Manager can migrate to a site. If you haven't already, please use our Service Request Form to ask that the Migration Module be enabled for you.
Navigate to Manage » Configuration
Locate the SiteFarm section of the page, then look for and click on SiteFarm Migrations

Review the tabs under the page title Migration overview and select the Wordpress import tab.

Upload the file
You will need to export your site as an .XML file from your Wordpress account and have the file ready for this next step. On the Wordpress import tab screen, you will be prompted to search for, select, and attach your Wordpress site export file.

Click Next to continue.
Configuration Choices
Authors - Choose an existing Drupal account which will be the author of all WordPress content imported. Click Next to continue.
Vocabularies - WordPress blogs contain two vocabularies: tags and categories. Here you may choose the Drupal vocabularies to import each into, or omit one or both from the import entirely. You can choose to import your Tags and Categories—or not—using the following options, then click Next to continue:

Do not import
Article Categories
Article Type
Branding
Event Category
Person Type
Photo Gallery Categories
Tags

Content - WordPress blogs contain two primary kinds of content: blog posts and pages. Here you may choose what types of Drupal nodes to create from each of those content types, or omit one or both from the import entirely. Click Next to continue.
Review
The Review page is your confirmation page indicating you want to proceed with creating the batch files from which your site will be migration. THIS IS NOT THE ACTUAL MIGRATION. When you submit this form, migration processes will be created and you will be left at the migration dashboard to select the batch files you want to migrate into your site.
Click Finish to accept the configuration choices you've selected and begin building the batch list.
Migrating the batch files
When you are returned to the Migration Overview screen, you will see the list of batch files resulting from your configuration choices during the upload process.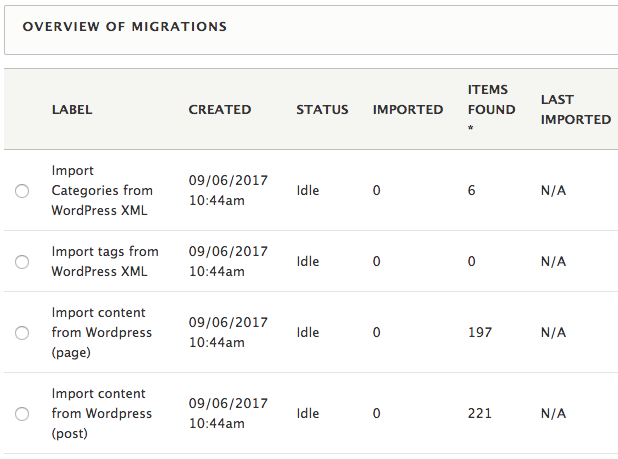 This example includes posts, pages, tags, and categories selected from a Wordpress XML file. The Imported column will read "0" until such time as you choose to run a migration. The Items found column indicates how many items the batch file contains for import.
Running a migration
Click a radio button next to one of the label items. It's important to note you can only import one batch file at a time.
From the Select an action drop-down menu, choose Run Import.
Click Execute action to continue.
On the Do you want to start an import? screen, click on Perform import to continue.
The batch file will run and your Wordpress content will be translated into the appropriate content type in SiteFarm based on your configuration choices. When complete, you will be returned to the Migration Overview dashboard to select another file to import, or you can go to your Shortcuts » All content screen to begin reviewing your new content.