What should you use the Article content type for?
The Article content type is intended for content that is time sensitive, such as a piece of news, a blog post, or an announcement.
How to Create an Article
Click on Shortcuts » Add content in your admin panel
From the list of content types, select Article.
At a minimum, you need a Title and some Body content. If you're uncertain what the icons in the WYSIWYG can do, review the instructions on formatting your content.
Article Sections
Title - required. Text entered will be used as the title of the page, included in the breadcrumbs, and become the page's URL unless otherwise configured. When linking to this article from other locations, you'll locate it using the article's Title information.
Subtitle - optional
Byline - optional
Quick Summary - optional. A multi-line feature to list article highlights that will appear before the main article content.
Body - A WYSIWYG interface provides you the means of adding in your article's main content.
Edit summary - included if any Body content is added. This information will be used in other locations in your site as a teaser or introduction to the full article. By default, the system will use your text exactly as written in the body up to a certain number of characters (the first 140 characters, as an example). You can change what the summary says by clicking on the Edit summary link and editing the content. Using the Summary field has the added benefit of ensuring your ShareThis buttons for Articles are likely properly formatted so the article link is included.
Primary media - optional. If present, it will be used on the article's page and any location where the article is listed.
Media Resources - optional. You can browse and/or upload files to be attached with this page via icon in the WYSIWYG to this text area.
Article Sections - Additional Options
Within the Additional Options sidebar is a section labeled Related Content. In here, you can include the following: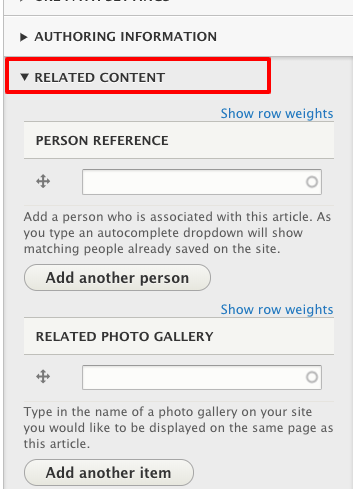 Person Reference - optional. A person page has to have already been created first before you can link to it from your Article content type; simply start typing the person's name and SiteFarm will assist with an autocomplete feature. You can add multiple people. If you see a number in parentheses follow the name this is normal; the number represents a unique ID number or identifier that has been associated with that piece of content.
Related Photo Gallery - optional. A photo gallery page has to already have been created first before you can link to it from your Article content type. Once created, start typing the name of the photo gallery page and SiteFarm will assist with its autocomplete feature. You can add multiple photo gallery pages.
I've created my Article, but where is it now?
You have two methods to locate your Article content.
Through Structure » Content or Shortcuts » All content, and scrolling through your list of created content to find your Article, or;
From your screen view, locate your site's primary navigation menu and, depending on the type of Article you created, you can see your content in either the Blog or News pages. Both these pages are built using a View, which has been designed to display all content of the Article blog type or Article news type respectively.
Tags