When you're ready to go live with your site, it's valuable to understand the process of what is happening in the background before committing yourself to the process.
If you already have a live website, the process is going to involve reassigning your web address from your current site to your new one in SiteFarm. From the time you initiate the request until the switch has been completed, you will not be able to make updates to either site. Usually, the switch takes approximately four hours, so please plan accordingly.
T-minus and counting...
When you feel your site is ready to go live to the web, please use this checklist to help you step through the process.
 
Step 1: Request a review of your site by the SiteFarm team (Optional)
We want you to feel happy and confident about your web presence and are as invested as you are in helping put your best foot forward. If you're interested in having us glance over your site, we can help you spot any points of concern and make suggestions to improve the overall look and function of your site. Make your request at sitefarm@ucdavis.edu.
Verify that your web site contains, and solicits (via webforms, or otherwise) only approved data types as outlined by the Data Security Guide.
Step 2: Sign up with Duo if you haven't already
In May 2018, the campus began moving to Duo, a multi-factor authentication system, in order to improve overall security and decrease the likelihood of compromised passwords. If you haven't heard of it and/or haven't signed up for it yet, this is necessary in order to later properly add your site to the new CAS Service Registry. Read the Knowledge Base article on Duo and how to enroll.
Step 3: What are your plans for your live domain name?
Acquiring a web domain if you don't have one
Do you currently have a domain URL for your live site? If not, wait until Step 7 to acquire one so you only have to contact the campus host clerk once.
Example: https://sitefarm.ucdavis.edu
Do you plan on having an address like www.oursite.ucdavis.edu or computing.facilities.ucdavis.edu? If so they require special steps:

NOTE: If you will be using a sub.subdomain.ucdavis.edu domain name, including www.yoursitename.ucdavis.edu, please alert sitefarm@ucdavis.edu so we can configure the SSL certificate appropriately in advance. If you do not, your site will show a security error. Be aware that this sub.subdomain setup does require additional steps to configure and if you have a specific launch date in mind, please note that these SSL certificates 3-4 weeks to process due to the administrative steps we are required to complete.
Step 4: Select your launch day
Select any day of the week except for Friday. Launching new sites right before the weekend is never a good idea in case something goes wrong and support is unavailable.
Be aware that once you initiate your launch requests, you will not be able to update your SiteFarm site until the update process is complete. The process will take approximately four hours from the time you submit your request to the host clerk as outlined below.
Step 5: Register your live URL with the campus' CAS Service Registry
As of May 30, 2018 all campus websites will now need to have their information added to the CAS Service Registry. The CAS Service Registry is a white-list of service URLs that are allowed to use the UC Davis SSO server to authenticate users.  The use of the registry is a security measure and also enhances performance by ensuring only authorized sites are processed by the server.  Administration of the service registry is done through the CAS Management Application. Read our blog article that addresses what the new CAS Registry System means to you. Please note your CAS Service Registry questions should be sent to ithelp@ucdavis.edu.
The CAS Service Registry instructions are provided through the IT Knowledge Base. 
You do NOT need to register your *.ucdsitefarm.acsitefactory.com or *.sf.ucdavis.edu URL, only your live domain. Example: https://sitefarm.ucdavis.edu.
If you do not add your live site URL, you and your users will NOT be able to log in to make changes, though it will still be visible to the public.
You are allowed to register more than one domain if needed. Example: sitename.ucdavis.edu AND www.sitename.ucdavis.edu.
This step should be done a business day before launching your site and you should wait for confirmation prior to going live in Step 6 as you may want to make certain your users can still log into the site.
The person listing the site, or who is claiming it in order to be added as a contact, will need their Duo or token to log into the CAS Service Registry.
Your CAS Management dashboard, from the upper right corner menu, will provide the following options:

Your Services - services already added and approved
Add Service - create a new service listing
Lookup Service - a directory listing based on the URL entry
Pending Submissions - any services you've requested still awaiting approval
Logout

When listing a new site you'll enter:

Service URL: list your site like this: https://yoursitename.ucdavis.edu/.*
Name: yoursitename.ucdavis.edu
Description: Enter the following:
"This is a SiteFarm site
<Your department/organization>
<One or two of the primary contacts who have claimed the site>"
If you're doing this before you go live, you can mention that in this space so when the CAS team processes your request they'll know how to handle logout requests.

Existing entries will have their own sub-menu located to the far left of the row. You have the option to Edit or Delete the listing.
The CAS Service Registry also includes an option for multi-factor authorization through the campus' Duo service if you want your users to go through the additional security step during login. But, generally, you only need to use the Single Sign On (SSO) option.
Please note all sites launched prior to May 30, 2018, have already been added to the Registry, but you will want to search for them, add a Description, and have the appropriate people in your site claim it so you can be listed as a contact.
Step 6: Email the SiteFarm team prior to your launch and INCLUDE your chosen live URL address
If you have a Site Factory account, you have the ability to associate your domain name directly and can skip contacting the SiteFarm team, otherwise proceed to the bullet point below.
This is an important step as we will configure your site's domain settings to display on your official DNS instead of your xxx.ucdsitefarm.acsitefactory.com or xxx.sf.ucdavis.edu domain.
We'll notify you when the domain update is complete and then you can continue on to the next step.
Step 7: Email the campus host clerk with your request
This process is changed as of October 19th, 2020. CNAME now goes to sf.ucdavis.edu
---
Email hostclerk@ucdavis.edu
Subject line: "Request for CNAME reassignment"
Body: "Dear Host Clerk,

Please make the following DNS change:

ourdept.ucdavis.edu CNAME sf.ucdavis.edu

If there are any other DNS records for ourdept.ucdavis.edu, please remove them.

Please make this change at HH:MM on MONTH DAY.

Thank you."
 

---

 

Please DO NOT ask for a CNAME to ourdept.sf.ucdavis.edu or ourdept.ucdsitefarm.acsitefactory.com. 
Our process has changed due to our move to the Fastly CDN service. Read more in our blog "SiteFarm gets even Fastly-er"
 
This email will generate a service ticket with the campus host clerk and they will either ask you clarifying questions or advise you when the work has been completed. It will take approximately 30 minutes to four hours for the change to show up online.
Step 8: Awaiting the Changeover to your new site
As mentioned above in Step 5, the propagation of your domain on the internet can take anywhere from 30 minutes to four hours. If you want to keep an eye on how things are going, you have the means through https://www.whatsmydns.net.
On the page, you can enter in what your live domain will be, change the menu from "A" to "CNAME" and click the Search button to see the progress of your DNS propagating across major servers.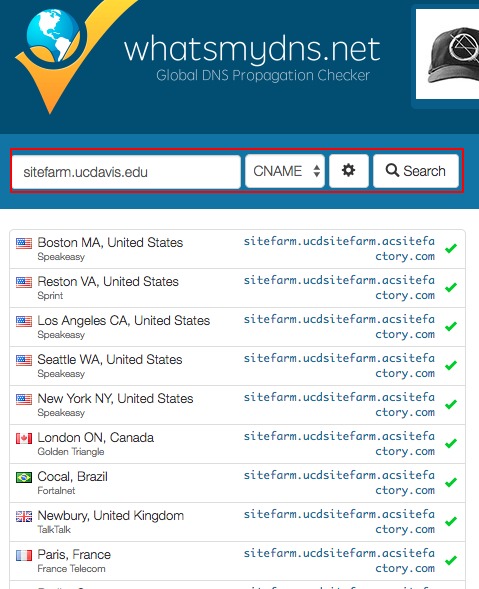 Step 9: Working in SiteFarm Post-launch
Congratulations! From this point forward, your new login will be your-domain-name/login. For example, https://sitefarm.ucdavis.edu/login. This will allow you to edit your site as you originally did during site creation.