The RSS Feed block is a system block (View) that will pull in information from an external source of your choosing and display the RSS content within the block container in the page on which it has been placed.
Adding a RSS to a page region
From your admin panel, either use the Place block button in the upper righthand corner, or click on Shortcuts » Blocks to go to the Block layout page.
Choose your preferred region where you want the block to live.
A dialogue box will open containing the list of available blocks. In the filter field, type in 'RSS feed' to get quick access. 
Configure the RSS Feed block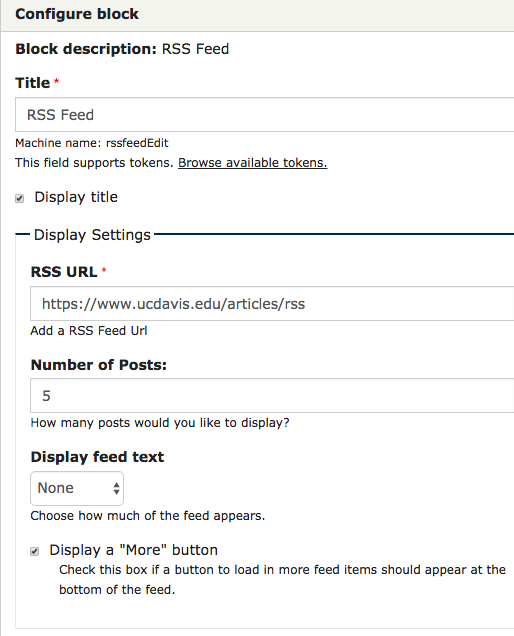 The Display Feed Text option allows for the following choices:
None - only the article title with the link embedded (see live example in the first sidebar).
Snippet - the title with the link embedded, plus the first 140 characters of the teaser

Full - the title with the link embedded, plus the entire feed teaser

Paragraph view, in which you can select how the character count:

250
500
1000 

When your configuration preferences have been set, check the block's visibility to determine where the block will be displayed, and then click the Save block button to finish. 
Tags