In SiteFarm 5.0.0 the team added 'Audiences' to your Content Audit panel. The purpose of this addition to is to give you a way to identify internal or external audiences that are either a target of the information or perhaps have ownership of it, respectively. The Audience select menu is listed just below the Action menu in the Content Audit panel.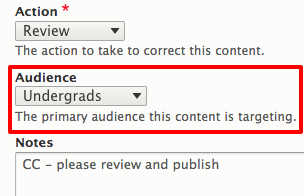 Configure your Audience list
Navigate to Manage » Configuration » System section » Content Audit.
The initial list will only include None|None:

Leave 'None|None' in the list, enter your cursor and start each entry on its own line:

Either leave the Default Audience as 'None' or select one of your entries.
Click Save configuration to finish.
Your list will now be available from every content type that includes the Content Audit panel under the Additional Options section of a page in Edit mode.
Tags