What should you use the Person content type for?
The Person content type is a way to create profiles of individuals. The majority of the fields included in the page are optional, so you can leverage them to include what you want to display and leave out the rest. With the options available to you in SiteFarm, you can use the profiles for:
Directories of people in a department, which you can also refine into defined groups using tags
Spotlights of individuals mentioned or listed in Article or Event content types
Bio pages for authors contributing article content to your site
Demo of a Person Page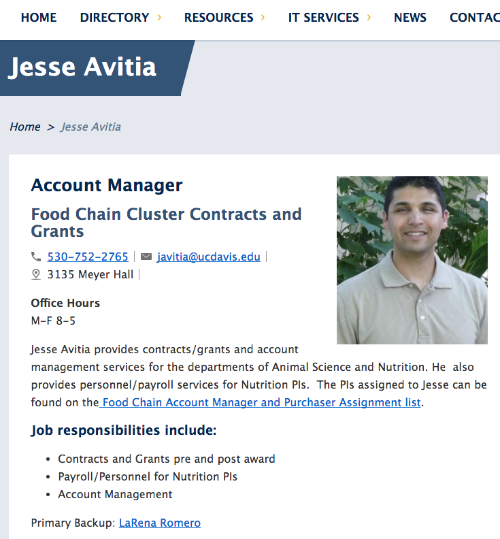 Demo of a Person Directory (automatically provided as a View in SiteFarm)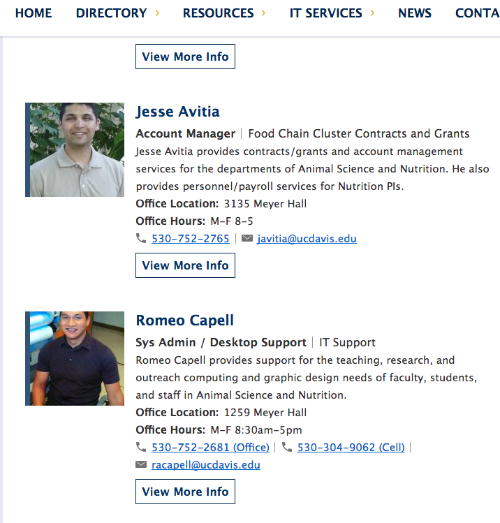 The system will automatically make some connections between content if you associate a person page with content.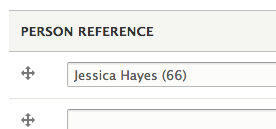 Author of article or spotlighted individual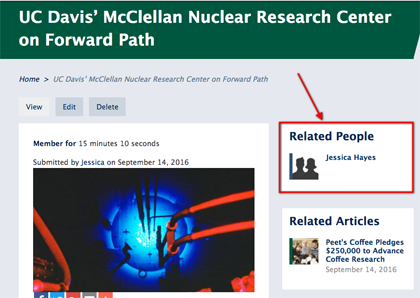 Author page listing articles contributed: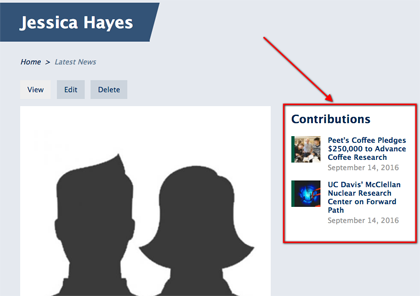 Person Sections
Name Prefix (honorific title such as Mr Mrs Dr)
First name
Middle Initial
Last name
Credentials - B.S., M.S., Ph.D., etc.
Portrait image

Alternative text - used by screen readers, search engines, and as a placeholder for broken images
3MB file size maximum

Position title
Unit

Create multiple listings
The field is a basic text field, so technically users can enter the information how they want, including Title/Unit name
example: 
Distinguished Professor, Department of Nutrition
Director, Program in International and Community Nutrition

Email
Phone number

​​​​​​​Create multiple listings

Website

Create multiple listings
URL - Include the "http://" prefix for your URL
Link text - How you would like your URL to be displayed. Examples: http://ucdavis.edu or UC Davis Home Site

Office hours
Office location - This is a single field to enter information pertaining to a building/office directly on-campus
Address - This is a multi-field option for listing locations with a full mailing address

Country
Company
Street address
City
State
Zip code

Bio (Edit Summary) - This is a "blurb" space for a brief text addition that is specifically for use in the Directory listing. This information will only show in the main Directory page and not on the individual's profile page.
Bio (wysiwyg interface) - The full editable bio, resume, or CV
Education and Degree(s)
Honors and Awards
Courses
Research Interests and Expertise
Publications

Create multiple listings
Formattable field, but requires knowledge of HTML to use if converting to Full HTML Text Format

Membership and Service
ORCID affiliation

Enter in the URL of your profile from ORCID.org to display an associated block that can direct visitors to your full profile on the ORCID site.
Format example: https://orcid.org/0000-1111-2222-3333

Documents - optional attachments
New Sections Added in SiteFarm Release 8.8.0
Tags