Changelog SiteFarm 6.0.0 Released
This latest release of SiteFarm 6.0.0 comes with several high-impact updates and features to create added value for your sites.
New Features
Footnotes & Citations - this came as a feature request in conjunction with the ability to insert sub- and superscript text. A new icon is available from your WYSIWYG bar to automate and style the inclusion of footnotes in your pages. Documentation
Geolocation Configuration - site managers will now be able to enter in a Google Maps API key once the module is enabled via the Manage » Configuration » Web Services section » Geolocation settings page.
Google Custom Search - you will now have access to the Google Custom Search appliance that, if enabled, will replace the default search option that came packaged with your default SiteFarm site. All content, including block content, is visible to the search. Instructions for configuring the look are included so your search results will blend with your default theme, and you can configure it to search one or more sites at a time, a great feature for large organizations with many sites. Documentation
Print.css - while we don't encourage you to print out your web pages, if you should see a need to do so, we've implemented an optional setting to optimize your content for printing to minimize ink usage and remove commonly ignored sections for improved output. Documentation
SiteImprove - if you haven't heard of SiteImprove yet, it's a service specifically designed to help improve the overall quality of a site's content, SEO, and most importantly, accessibility compliance. This is a UC-wide license meant to encourage site owners to take the time to review and improve the site utilizing the newly available, optional plugin. An account with SiteImprove is required to use this feature (please contact David Levin, IET Academic Technology Services, for more information). Documentation
Interface Update
With the integration of the Drupal 8.6 software update, you'll discover that the entry known as "URL PATH SETTINGS" available from under the Additional Options section of your page while in Edit mode has been renamed to "URL ALIAS". The entire list of labels under Additional Options has also had their links changed from black to blue. Only the appearance has changed; all functionality remains the same.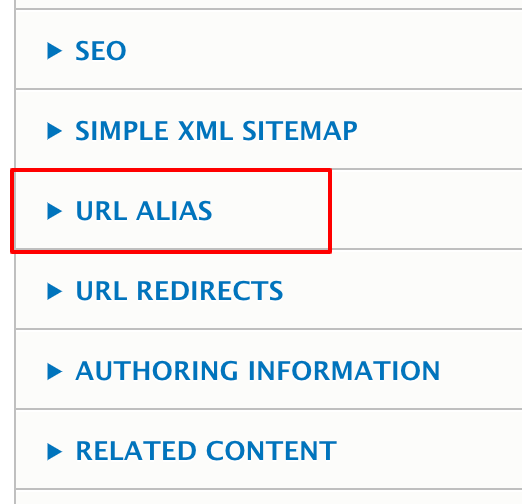 Drupal Community Development - Feature Watch
The Layout Builder and Media Library projects, both highly anticipated, are continuing their development on schedule. In the latest Drupal 8.6 both of these initiatives have been labeled as "Experimental" by the Drupal Community. The current Drupal Roadmap indicates an effort to bring both of these to a Stable state in time for the release of Drupal 8.7 on May 1, 2019. Once available, our developers will be reviewing these two features again to determine if they're ready for broader use by the SiteFarm community and what work may be required (code retrofitting, theming, documentation) so as to avoid any possible bugs or user-experience problems. To clarify: while the Drupal Community projects may be completed next spring, work may yet need to be done before we can release it for your use, so a further update on their viability will follow a period of thorough review by the team.
Bug Fixes
Multi-select drop-downs should have the text centered vertically now.
If a site was set-up as an intranet with CAS authentication required, a redirect loop was occurring and forcing a user along a specific path, resulting in access denied, but no 404 or 403 message to advise the user that they require a user account.
The webform confirmation process was producing 3 submissions if the confirmation notification utilized an option other than the inline confirmation page. We were unable to reproduce the problem as we believe a Core patch fixed the issue prior to our review.
Users reported problems with the addThis with respect to presentation and connection issues with Twitter. Two elements were at issue here: first, the proper Metatags must be enabled and configured to allow your site to send the information to Twitter, and second, your summaries, which are used by Twitter for the text can't exceed the 280 character count.
Primary Category
Tags